The Advantages of Installing Composite Fence Panels Mississauga and how to buy composite fencing online on our website.
Composite fence panels Mississauga
For years, garden fences have been made out of hardwood and even metal, but studies and anecdotes have shown that such materials come along with a series of disadvantages, despite their looks. 
In recent times, the market has seen an increased demand for composite fence panels, thanks to their numerous benefits. Before discussing the main advantages brought forth by this material, it's important to point out that composite fencing is normally made up of a mixture that includes wood and plastic. Most of the time, the materials are recycled, thereby making these fences more eco-friendly when compared to metal and pure wood alternatives. By combining wood and plastic, composite fence manufacturers obtain products that are not only good-looking, but also much sturdier. 
The next section of the article will focus on outlining the main advantages that a garden owner will obtain by installing composite fence panels. 
Highlighting the benefits:
Perfect choice for eco-friendly homeowners 
Most manufacturers craft composite fence panels by relying on recycled materials. Not only is doing so cheaper, but there's no actual disadvantage to leveraging readily-available recycled plastic. Since composite fencing seldom needs maintenance or panel replacements, additional trees won't have to be cut down to make adjustments or repairs. 
Composite fence panels pass the test of time
Durability represents one of the key advantages for composite-based fence panels. In fact, we provide multi-year warranty on our fences. Such guarantees help customers rest assured that they won't have to pay out-of-pocket in case anything goes wrong. 
Exquisite protection against the elements
Thanks to the plastic component in composite panels, almost no amount of rain, snow, or hail will damage the structural integrity or looks of such fences. While damaging elements like moulding or rotting can affect hardwood fences, composite panels are known for their considerable resistance. 
No need to carry out scheduled maintenance
Unlike hardwood or metal alternatives, composite fence panels do not entail a need to undergo scheduled maintenance. As such, wood treatments, colour staining, and other such practices are not a necessity. In most cases, composite fences look brand new for a substantial number of years. 
Oftentimes cheaper than hardwood fence panels
Sure, composite fence panels are almost always more costly when compared to softwood alternatives, but such choices come along with disadvantages. However, composite fences are certainly cheaper than hardwood options. 
Very easy to install without help from professionals 
Customers planning to save money should know that they do not necessarily require the service of professionals to install composite fence panels. 
The average cost of composite fencing Mississauga
Prices tend to vary depending on the style and manufacturing quality of composite fence panels. Generally, premium composite fence kits can be found for a little as $389, whereas composite gates are priced at $539. Of course, the total cost will depend on the size and particularities of your garden.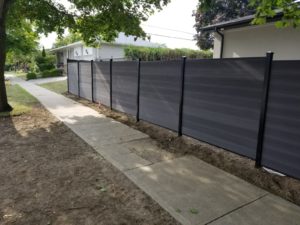 Buy composite fencing online: